The Tōtsuki Friendship and Rapport Training Camp (友情とふれあい宿泊研修 Yūjō to Fureai Shukuhaku Kenshū) is a first-year high school event at Tōtsuki Culinary Academy.
The Training Camp takes place several weeks into their first year. It's the first major hurdle that all Tōtsuki high school students must go through. Students are sent to Tōtsuki Resort where they spend five days training.
The camp is supervised by some of the school instructors such as Roland Chapelle and the manager of the Resort: Gin Dōjima. The camp invites a number of the Tōtsuki graduates to participate in the camp as instructors. Most Alumni come to the camp in order to scout potential chefs to one day work in their restaurants.
During the camp, students are treated like employees by the Alumni. If a student does not meet an Alumnus' expectations or fails to complete a given task, the said Alumni is authorized to expel that student from the academy. Some years, as many as half of the participating students are expelled before the end of the camp.
Specialized Classes
Edit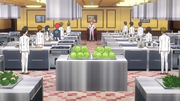 Each Alumni oversee a classroom of their own and tasks the students to complete a certain objective, such as cooking a dish of a certain theme, or cook a specific dish, such as a signature dish of that Alumni. These challenges usually have a time limit.
Students participate in up to two specialized classes a day.
Dinner Preparation
Edit
The Tōtsuki students are required to prepare dinner for various college sports clubs who are having their own training camps near and at the Tōtsuki resort. Each student must complete 50 dishes.
Students must also cook their own meals during the camp.
Breakfast Challenge
Edit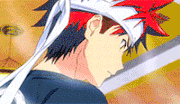 On the third night, the students are required to choose or create a breakfast recipe to cook the following morning at 6 a.m.. A theme is decided as a basis for the dish they must create. The students have all night to decide on a dish and this is almost guaranteed to make sure that they don't get any sleep.
The following morning, students serve their dishes buffet style to the resort guests, consisting of the resorts ingredient providers and their families.
Students are required to cook and serve no less than 200 dishes in 2 hours, though, it only counts if the eater approves of the dish.
The final event of the training camp. Students who complete the camp without getting expelled are treated to a lavish gourmet banquet prepared by the Alumni and Hotel Staff.
Community content is available under
CC-BY-SA
unless otherwise noted.