Restaurant Yukihira (食事処 ゆきひら Shokujidokoro Yukihira) is a Japanese style special-of-the-day type restaurant owned by Jōichirō Yukihira in the Sumiredōri Shopping District. However, Jōichirō closed it in order to travel abroad for 3 years and send his son Sōma to an Elite Culinary School called Tōtsuki Culinary Academy.
After Sōma graduated, Jōichirō passed ownership of the restaurant to Sōma, who opens the restaurant only on an irregular schedule, as he spends most of his time traveling overseas, accepting invitations to cook all over the world.
Restaurant Yukihira is a fairly small "Special of the Day" diner. It was originally owned an operated by Kazusato Yukihira, who later passed on the restaurant to his daughter, Tamako Yukihira, and son-in-law, Jōichirō Yukihira.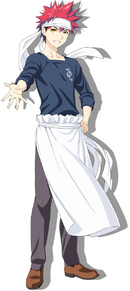 The Restaurant Yukihira employee uniform consists of a dark blue, long sleeve shirt with the Restaurant Yukihira name inscribed on it in two locations. One in the front on the upper left side of the torso, over the wearers heart, written in small print. The other located in the middle of the back, written in large print.
The uniform also consists of a white apron and a long headband. 
Regular customers
Edit
These are Yukihira specialty dishes that can only be found on their secret menu:
References
Edit
Community content is available under
CC-BY-SA
unless otherwise noted.