Kyokyojitsujitsu is the fourth Japanese ending theme of the anime adaptation of Shokugeki no Soma. It is sung by nano.RIPE. It debuted on October 3, 2017.
Characters in Order of Appearance
Lyrics
<poem> 青天響く霹靂 閃光眩むその間に 決して音を立てずにじっと忍び寄る影 騙し騙されて失った 罵り罵られて奪った 守るべき正義をすり減らして勝ち取るものなどない 籠の中から見上げた空 雨上がりの青の眩しさに 囚われたままじゃ居られない 昔話なら捨てて 快楽に身を委ねれば緩やかに削られる野心 振り返り見渡す限りいつまでも咲き誇る美談 可能性に賭けるわけじゃなくて これまでの日々に賭けるんだ 何もかもが嫌になって投げ出した そこから始まる未来 籠の中から見上げた空 暮れゆく魔法に掛けられた 囚われたままじゃ居られない 内側から響いた声が 闘うべきは他でもない とりまぜ刷り込まれたキオクだ 答えはヒトツと限らない 染まれるほどキレイじゃないさ 信じていたすべてがたちまち音を立て崩れ 積み重ねたすべてが瓦礫になろうとも 背中に隠してた翼がやっと今ゆっくりと広がり 籠を飛び出し見上げた空 満ち欠け傾く月が照らす 囚われたままじゃ気づけない 足元にも広がる世界 従うべきは他でもない 突き動かすほどの本能だ ぼくはぼくじゃなきゃ居られない 変われるほど器用じゃないさ <poem>
<poem> Seiten hibiku hekireki senkou kuramu sonokan ni Kesshite oto o tatezu ni jitto shinobiyoru kage Damashi damasarete ushinatta nonoshiri nonoshirarete ubatta Mamoru beki seigi o suriherashite kachitoru mono nado nai Kago no naka kara miageta sora ameagari no ao no mabushisa ni Torawareta mama ja irarenai mukashibanashi nara sutete Kairaku ni mi o yudanereba yuruyaka ni kezurareru yashin Furikaeri miwatasu kagiri itsu made mo sakihokoru bidan Kanousei ni kakeru wake janakute kore made no hibi ni kakerun da Nanimokamo ga iya ni natte nagedashita soko kara hajimaru mirai Kago no naka kara miageta sora kureyuku mahou ni kakerareta Torawareta mama ja irarenai uchigawa kara hibiita koe ga Tatakau beki wa hoka demo nai torimaze surikomareta kioku da Kotae wa hitotsu to kagiranai somareru hodo kirei janai sa Shinjiteita subete ga tachimachi oto o tate kuzure Tsumikasaneta subete ga gareki ni narou tomo Senaka ni kakushiteta tsubasa ga yatto ima yukkuri to hirogari Kago o tobidashi miageta sora michikake katamuku tsuki ga terasu Torawareta mama ja kidzukenai ashimoto ni mo hirogaru sekai Shitagau beki wa hoka demo nai tsukiugokasu hodo no honnou da Boku wa boku janakya irarenai kawareru hodo kiyou janai sa <poem>
<poem> Split apart Before dazzling the sky Why not make a noise Still creeping shadows I was deceived and got lost I was scolded and robbed Grinding justice to protect There is nothing to win Sky I looked up from my head To the dazzling rain of blue after the rain I can not get caught Throw away the old story It is not the other things to say tomorrow It's a reaction enough to thrust I can not but we It is not deftly enough to change <poem>
Videos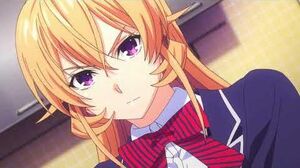 Changes
In the beginning and ending scenes of the ending theme, different characters are featured in each episode.
References
Community content is available under
CC-BY-SA
unless otherwise noted.